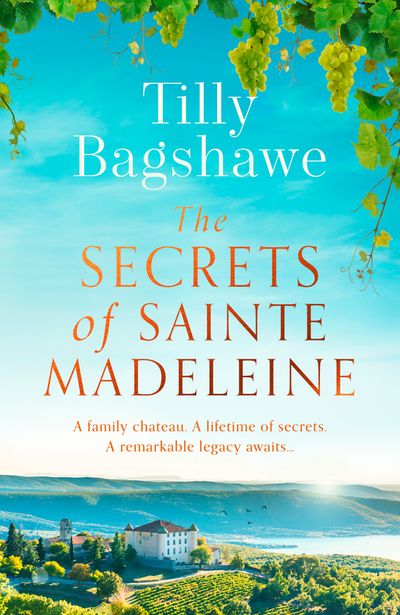 The Secrets of Sainte Madeleine
By Tilly Bagshawe
Escape to the French chateau in this gripping, sweeping tale of love, lies and divided loyalties. Perfect for fans of Santa Montefiore and Lucinda Riley.
ONE FAMILY
THREE GENERATIONS
SOME SECRETS NEVER DIE . . .
Elise would do anything to inherit Sainte Madeleine, the vineyard that's been home to the Salignacs for generations. Only Laurent Senard, a distant cousin, is a rival for her heart – yet when a family rift sends her on a new and dangerous path, she risks losing them both . . .
 
Alexandre, Elise's brother, can't bear to see their capricious father put the vineyard – and Alex's birthright – in jeopardy. He leaves to carve out his own fortune in the rich hills of Napa, California. But will turning his back on the chateau be his biggest mistake?
 
Laurent Senard's love for Elise was planted at Sainte Madeleine long ago. But with the shadow of war sweeping over Europe, Laurent must leave France to fight. Through the years of longing, secrecy and tragedy that follow, he vows to find his way back – if only it isn't too late . . .
 
Sweeping through the 1920s to WWII and beyond, this is the story of the Salignac family – the loves that bind them, the secrets that threaten to divide them, and the chateau that will always call them home.
Readers are getting swept away by Sainte Madeleine:
'It is perfect escapism' Netgalley reviewer
'A beautiful love story that captures your attention and your heart from beginning to end' Netgalley reviewer
'Everything from sensitivity to heartache as well as a great story' Netgalley reviewer
'A definite feel of Gone with the Wind' Netgalley reviewer
'Lovers of romance and wine will be enraptured by the story' Netgalley reviewer
'Tilly Bagshawe has weaved a larger than life family saga set in the most gorgeous setting possible' Netgalley reviewer
"'Fabulous escapism, full of secrets & scandalous behaviour. Big and sweeping, it transported me to France, Greece, California… A pacy riot of a saga" - Tracy Rees
More praise for Tilly Bagshawe's escapist and glamorous novels: -
"'A cut above the rest… Pure, unadulterated escapism" - Fabulous
"'Fast-paced, fun and thoroughly entertaining" - Daily Mail
"'If you like your fiction with a large helping of glamour and scandal, this is a gem" - Prima