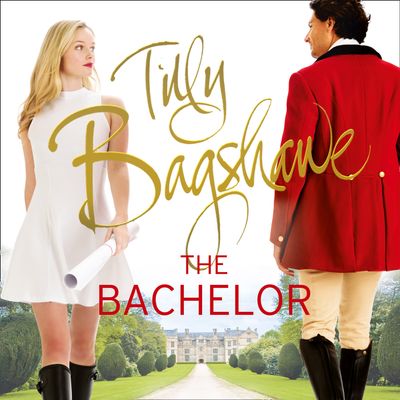 Swell Valley Series - The Bachelor: Racy, pacy and very funny!
(Swell Valley Series, Book 3)

: Unabridged edition

By Tilly Bagshawe, Read by Scarlett Mack
It is a truth universally acknowledged, that
a single man in possession of a good fortune
must be in want of… anything but a wife?
The third book in the Swell Valley series by bestselling author Tilly Bagshawe
Henry Saxton-Brae has it all – a titled, self-made millionaire,
his fiancée just happens to be a supermodel who is as kind and loyal as she is ravishingly beautiful. To top it all, he's just bought Hanborough Castle, the jewel in the crown of the Swell Valley.
Life couldn't be better… for someone who was ready to settle
down. Could he really be the only man in the world not in love
with his future wife?
Flora Fitzwilliam has been summoned by legendary
designer Graydon James to restore Hanborough to its former
glory. She soon discovers that it's not just the house that
needs fixing, and Flora seems to be the only person who sees
the real Henry Saxton-Brae.
Between her boss's waning talents and Henry's roving eye,
Flora is being torn apart. Can she pull off the job, and make
Henry see that his bachelor days are behind him?
Not since Rupert Campbell-Black has there been such a devastatingly sexy man in jodhpurs!
"'Fast-paced, fun and thoroughly entertaining" - Daily Mail
Praise for Tilly Bagshawe -
"'Full of scandal, sex and secrets, all of which combine to keep you hooked till the very end" - Closer
"'A cross between Jilly Cooper and Jackie Collins" - Daily Mail
'You're always guaranteed a corking characters and a fast-paced read with a Bagshawe story, and this doesn't disappoint' Heat -
'The queen of chick-lit' Woman's Own -
"'A cut above the rest… Pure, unadulterated escapism." - Fabulous
"'The natural heir to Jilly Cooper" - Candis