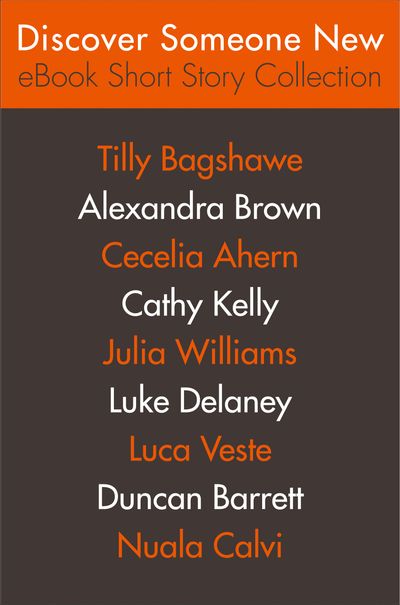 Discover Someone New: Short Story Collection
By Tilly Bagshawe, Alexandra Brown, Cecelia Ahern, Cathy Kelly, Julia Williams, Luke Delaney, Luca Veste, Duncan Barrett and Nuala Calvi
A collection of free short stories from HarperCollins' biggest authors – exclusive to Sainsbury's this autumn.
ONE CHRISTMAS MORNING by Tilly Bagshawe
ME AND MR CARRINGTON by Alexandra Brown is a deliciously funny short story perfect for anyone who loved CUPCAKES AT CARRINGTON'S, and for those discovering the loveable Georgie Hart for the first time.
THE LAST DAY OF THE YEAR by Cecelia Ahern is a heartwarming story from the #1 bestselling author of PS I LOVE YOU about coincidence, kindness and love.
ANNIVERSARY WALTZ by Cathy Kelly, from the CHRISTMAS MAGIC collection, is a uplifting tale of broken families healing again.
DON'T MARRY BARRY by Julia Williams
REDEMPTION OF THE DEAD by Luke Delaney
TIMES UP! by Luca Veste
THE SUGAR GIRLS – JOAN'S STORY by Duncan Barrett and Nuala Calvi is one of four stories from The Sugar Girls. During the Blitz and the years of rationing, the sugar girls kept Britain sweet. The work was back-breakingly hard, but the Tate & Lyle factory was more than just a workplace – it was a community, a calling, a place of love and support and an uproarious, tribal part of East London.