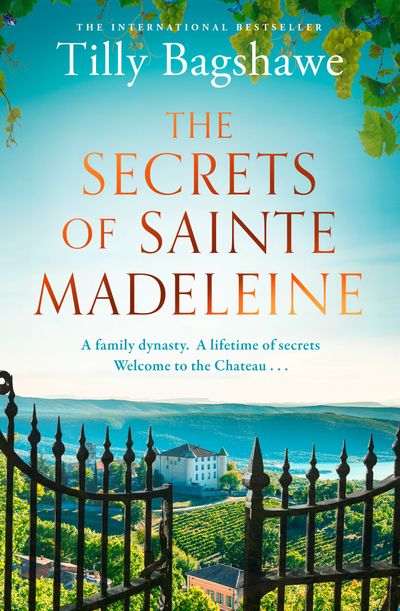 The Secrets of Sainte Madeleine
By Tilly Bagshawe
Escape to the French chateau in this gripping, sweeping tale of love, lies and divided loyalties. Perfect for fans of Santa Montefiore and Lucinda Riley.
_________________________________________________________________
ONE FAMILY
GENERATIONS OF SECRETS
IT'S TIME TO ESCAPE TO THE CHATEAU . . .
Elise is a true daughter of the chateau. She'd die before anything happened to Sainte Madeleine – even if it means betraying her own family.
Alexandre, Elise's brother, is destined to inherit – yet a dangerous rift with their father puts his future, and the chateau, in jeopardy.
And for distant cousin Laurent, his life-long love for Elise will always call him back to Sainte Madeleine.
But the peace of Europe rests on a knife-edge, and history has bigger plans than them all. Through love and war, danger and deceit, can the chateau – and the Salignac family – weather the storm?
Readers are getting swept away by Sainte Madeleine:
'It is perfect escapism' Netgalley reviewer
'A beautiful love story that captures your attention and your heart from beginning to end' Netgalley reviewer
'Everything from sensitivity to heartache as well as a great story' Netgalley reviewer
'A definite feel of Gone with the Wind' Netgalley reviewer
'Lovers of romance and wine will be enraptured by the story' Netgalley reviewer
'Tilly Bagshawe has weaved a larger than life family saga set in the most gorgeous setting possible' Netgalley reviewer
"'Fabulous escapism, full of secrets & scandalous behaviour. Big and sweeping, it transported me to France, Greece, California… A pacy riot of a saga" - Tracy Rees
More praise for Tilly Bagshawe's escapist and glamorous novels: -
"'A cut above the rest… Pure, unadulterated escapism" - Fabulous
"'Fast-paced, fun and thoroughly entertaining" - Daily Mail
"'If you like your fiction with a large helping of glamour and scandal, this is a gem" - Prima